Microwave Kettle Corn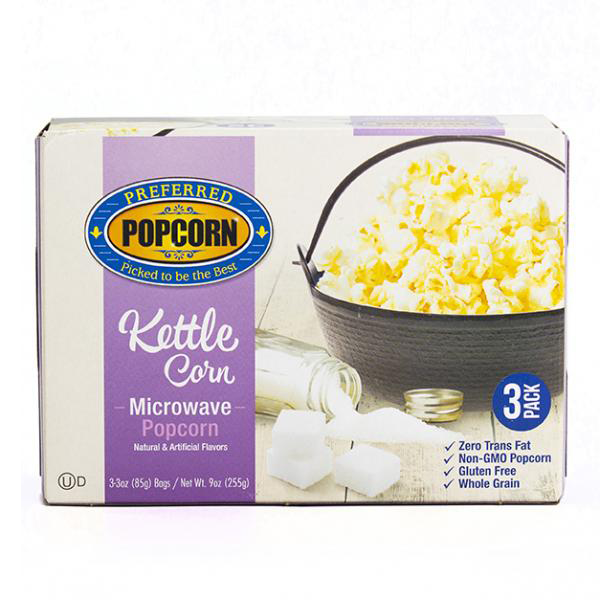 Love the sweet and salty taste of hot, fresh kettle corn? You know, the kind you can only find at street fairs and farmers markets? Now you can enjoy that freshly popped, totally addictive, artisan flavor right in your own kitchen! Try our new microwave kettle corn today - or any time the craving hits.
Each bag contains 3oz of kernels, which produces about 10 cups of popped popcorn.
Finally! You can now enjoy the unmistakable taste of sweet and salty kettle corn - hot and fresh in your own home. One of our most popular flavors - Kettle Microwave Popcorn is a treat worth sharing. You'll be glad you bought the big case.
Preferred Popcorn is 100% farmer-owned and led by second and third generation farmers
"Picked to be the best:" Our farmers carefully select the very best non-GMO seed varieties and use a variety of organic and earth-friendly farming methods
Preferred Popcorn's microwave popcorn has zero trans-fat and plenty of fiber, iron and antioxidants. You can enjoy this popcorn guilt-free!
Taxonomy - Popcorn
Microwave Popcorn
Our microwave popcorn is free from trans fat, 100% non-GMO, gluten free, and delicious. Choose from five popular flavors!